For the past two years at this juncture, the Precious Metals Sector has risen sharply in a month-long up cycle for Silver and with the high inflation expectations going forward a similar ramp up for the Precious Metals Sector is a real possibility.
By Lorimer Wilson and Goldrunner
Inflation Expectations
According to the New York Fed's Survey of Consumer Expectations:
the under-40 crowd expects inflation to hit 3.8% a year from now,
the 40-60-year-olds expect inflation of 4.7% and
the over-60 crowd expects inflation to hit 5.7%

for an average inflation expectations for one year from now of 4.8%

.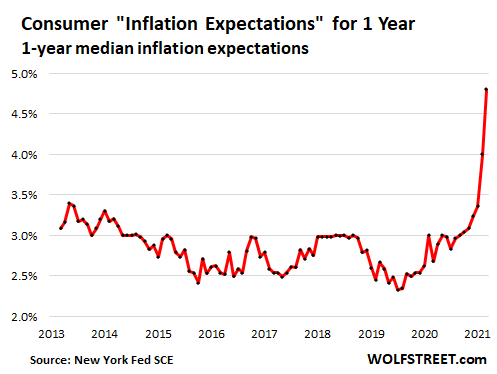 These inflation expectations tracked by the New York Fed roughly match the inflation expectations tracked by the University of Michigan's Survey of Consumers, whose latest reading jumped to 4.6%.
The Fed and the government claims, echoed by the major news outlets, that this bout of inflation is just "temporary" or "transitory" are resonating with consumers to some extent as inflation expectations for three years from now have jumped, but not as high, reaching nearly 3.57% in May and 3.55% in June.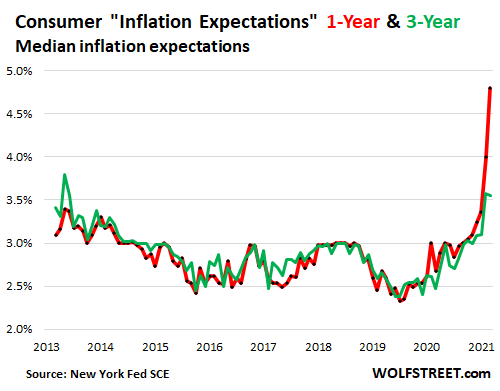 Silver Expectations
With such high inflation expectations, in combination with the 30-day up cycle (July 12th to August 11th) for Silver, Goldrunner's fractal work suggests that Silver might start a run up to $34 per troy ounce and perhaps as high as $37/ozt. over the next 30 days.
Gold's Expectations
Gold has more overhead resistance but there is little resistance up to the $1,900 area on Gold's chart so such high inflation expectations could very well see
Gold bust up through that red downtrend line pretty easily to perhaps as high as $2,100/ozt.
Gold & Silver Explorers
A major move higher in the price of physical Silver and Gold would also turn on the engines for the little Gold and Silver Explorer class stocks as a whole and cause them to bust to the upside for some time to come and show the kinds of returns that they are capable of without the need for any artificial leverage.
Summary
There are no guarantees in life, but cycles like the one mentioned above and the above charts are simply manifestations of prior price movements that have been illustrated via past price relationships. That being said, this time around things are somewhat different due to the vast number of U.S. Dollars that have been printed and provided to the people.  Those Dollars cannot realistically be removed from system without creating a deflationary collapse so they will just keep on coming and building up PM pricing rises that will fuel Silver and Gold prices higher and higher.
Conclusion
There is only one way to really protect yourself from all of that Dollar Printing- is to buy physical Gold, and Silver, and the companies that produce both or that own Gold and Silver in the ground!
Disclosure: Please understand that the above is just the opinion of a small fish in a large sea. None of the above is intended as investment advice, but merely an opinion of the potential of what might be. Simply put: The above is a matter of opinion and is not intended as investment advice. Information and analysis above are derived from sources and utilizing methods believed reliable, but we cannot accept responsibility for any trading losses you may incur as a result of this analysis. Comments within the text should not be construed as specific recommendations to buy or sell securities. Individuals should consult with their broker and personal financial advisors before engaging in any trading activities. Do your own due diligence regarding personal investment decisions. In the interest of full disclosure, GOLDRUNNER is personally invested in the Precious Metals sector including various Precious Metals and other individual stocks and reserves the right to modify or eliminate any or all positions at any point in time.
Below are links to Goldrunner's other recent – and still timely – articles:
A Few Last Words: 
Click the "Like" button at the top of the page if you found this article a worthwhile read as this will help us build a bigger audience.
Comment below if you want to share your opinion or perspective with other readers and possibly exchange views with them.
Register to receive our free Market Intelligence Report newsletter (sample here) in the top right hand corner of this page.

Join us on

 Facebook to be automatically advised of the latest articles posted and to comment on any of them.
munKNEE.com has joined eResearch.com to provide you with individual company research articles and specific stock recommendations in addition to munKNEE's more general informative articles on the economy, the markets, and gold, silver and cannabis investing.
Check out eResearch. If you like what you see then…