I am of the opinion that the current level for gold, and gold and silver miners, is near
enough to a bottom as to render the downside risk limited. This is a dip, so buy it; do not sit on the fence!
The comments above and below are excerpts from an article by Bob Kirtley (Gold-Prices.biz )which may have been enhanced – edited ([ ]) and abridged (…) – by 
munKNEE.com (Your Key to Making Money!)
 to provide you with a faster & easier read.  Register to receive our bi-weekly Market Intelligence Report newsletter (see sample here , sign up in top right hand corner.)
…As the chart below shows the Gold Bugs Index (HUI) has retraced some of its steps from the 285 level back to the 198 level, and is currently standing at 217. It should be noted that the HUI is still some 66.5% off the high (630-217) made in 2011, so there is a lot of ground to make up.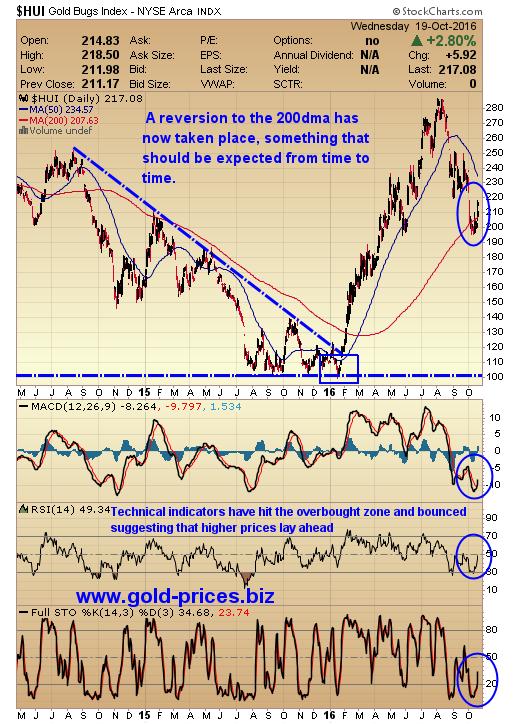 Prediction
A gentle reminder of a prediction we included in an update to our subscribers recently and one we are sticking by:
Some of the precious metals mining companies that are available today and can be purchased for $2, $3, $4 – they will go up by the same amount in one trading session when this bull market starts to really spark. That's right a $3.00 stock will increase by multiples of its current price, a 7 fold move would see this stock trading at $21.00, then we get a spike of say 15% in one day for an increase of $3.15. We will re-visit this prediction in a few years from now and see if we were close or not."
Our target price of $10,000/ozt hasn't changed since day one, which was Monday, 6th June, 2006, and we still stand by it. We anticipate that this will take around four or five years or so to achieve. It will be a white-knuckle ride all the way.
Conclusion
The fundamental factors haven't really changed very much:
money printing will accelerate, as this is the only tool that the central bankers have at the moment. Individual national economies are staggering from pillar to post, reminiscent of a drunken man trying to find another bar late at night.
China, India and the Arab world will continue to consume the annual production of the physical metal – which, by the way, is dwindling. The low-hanging fruit has all been picked.
Watch the UK and European banks; they are having a difficult time at the moment. Deutsche Bank AG  is down around 45% YTD, along with RBS down 52% YTD, having lost 6.5% in one week, and the Italian banking sector is looking ever more fragile.
The fragility of the banking system is another good reason for us not to keep our gold holdings with them.
We are continuing with our strategy of layering into both gold and silver mining companies [and,] hopefully you have used the last few years of this bear market to prepare your acquisition programme for when the bear phase ends and the bull phase resumes.
Do some work. Buying into a fund will give you an average return, they are vehicles for idle investors; good quality

stocks

will outperform and generate much better returns but…don't fall in love with just one particular stock. This is not a game about love; it is a game about logic, discipline, hard work and courage.
This next bull phase is leaving the station right now. Are you on this train or not? This is a dip, so buy it; do not sit on the fence.
Follow the munKNEE – Your Key to Making Money!
"Like" this article

on Facebook

Have your say

on Twitter

Register to receive our

bi-weekly

Market Intelligence Report newsletter

(see sample

here

,

sign up in top right hand corner

)

 Share your thoughts

with us

in the comments section below

. We'd like to hear from you!