My June forecast predicted precious metals and miners would rise throughout August and into
September. However, since then, gold prices have deadened, and I'm beginning to reevaluate the situation. After hours of analysis, I believe I found a dormant scenario that, if executed, will produce a most excellent buying opportunity.
The comments above and below are excerpts from an article by AG Thorson (GoldPredict.com) which has been edited ([ ]) and abridged (…) to provide a faster and easier read.
What's Changed?
Last week's exuberant employment numbers weakened commodities and put a floor under the dollar. At that time, gold and silver prices dropped, and have teetered on the edge of a breaking down ever since. We raised the warning flag last Friday, and it's still flying high.
I never liked the look of the May lows. They were extremely superficial, and the weekly charts closed just once beneath the 10-week exponential moving average. Definitely, against standard practice, this is a rare event. I accepted it nonetheless due to the extensive short-covering and eagerness of buyers during the spring. These factors may have contributed to a 6-month cycle extension. If this is indeed the case, a more meaningful correction is imminent. The next few trading days are vital.
If key levels are breached, gold prices will drop until late September, around the time of the next Fed meeting. Gold could reach about $1,225, and silver may bottom around $16.75. These levels would likely become the last great buying opportunity before a major bull market advance. A back up the truck type event.
US Dollar
The dollar confirmed a cycle low at 94.94. It needs to stay above that level or risk a major breakdown. We should know it's route in the next few days.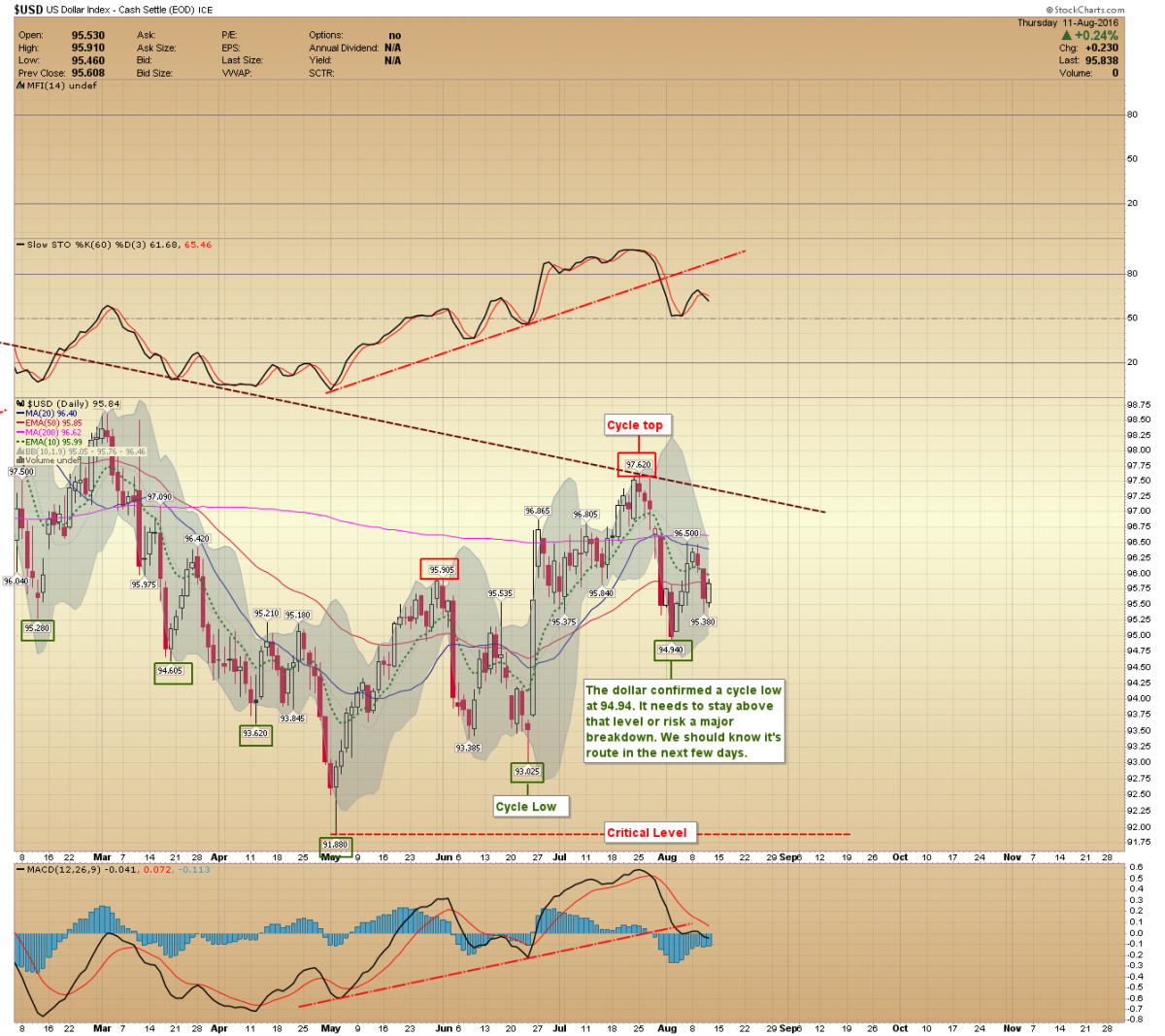 Gold Daily Chart
Gold is holding to a small bear flag formation running along the cycle trend line. It is teetering on the cusp of a breakdown. If this is a bear flag, prices should break lower any day. A close below $1,335 will be the first sign of the broader correction; it will be fully established once $1,310 is broken. Look for a reversal in the buy zone to mark a bottom.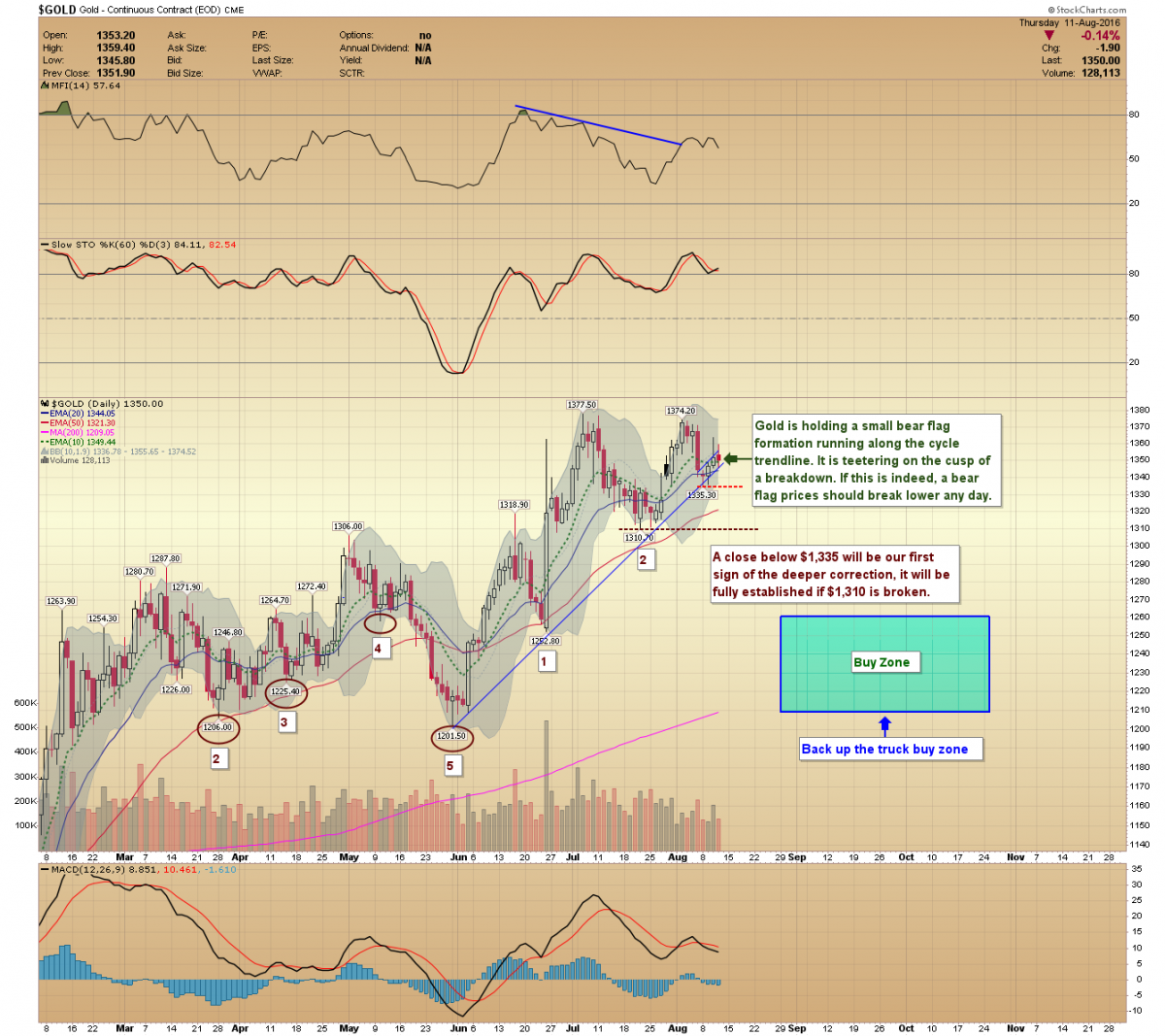 Silver Daily Chart
Silver prices are struggling around the 10-day EMA. The angle of ascent is corrective in nature. I also see the potential for a short-term bear flag. If there is going to be a breakdown, it should occur forthwith. Note: A close below $19.27 will confirm that we are headed to the Buy Zone. If reached, it will be viewed as an excellent buying opportunity.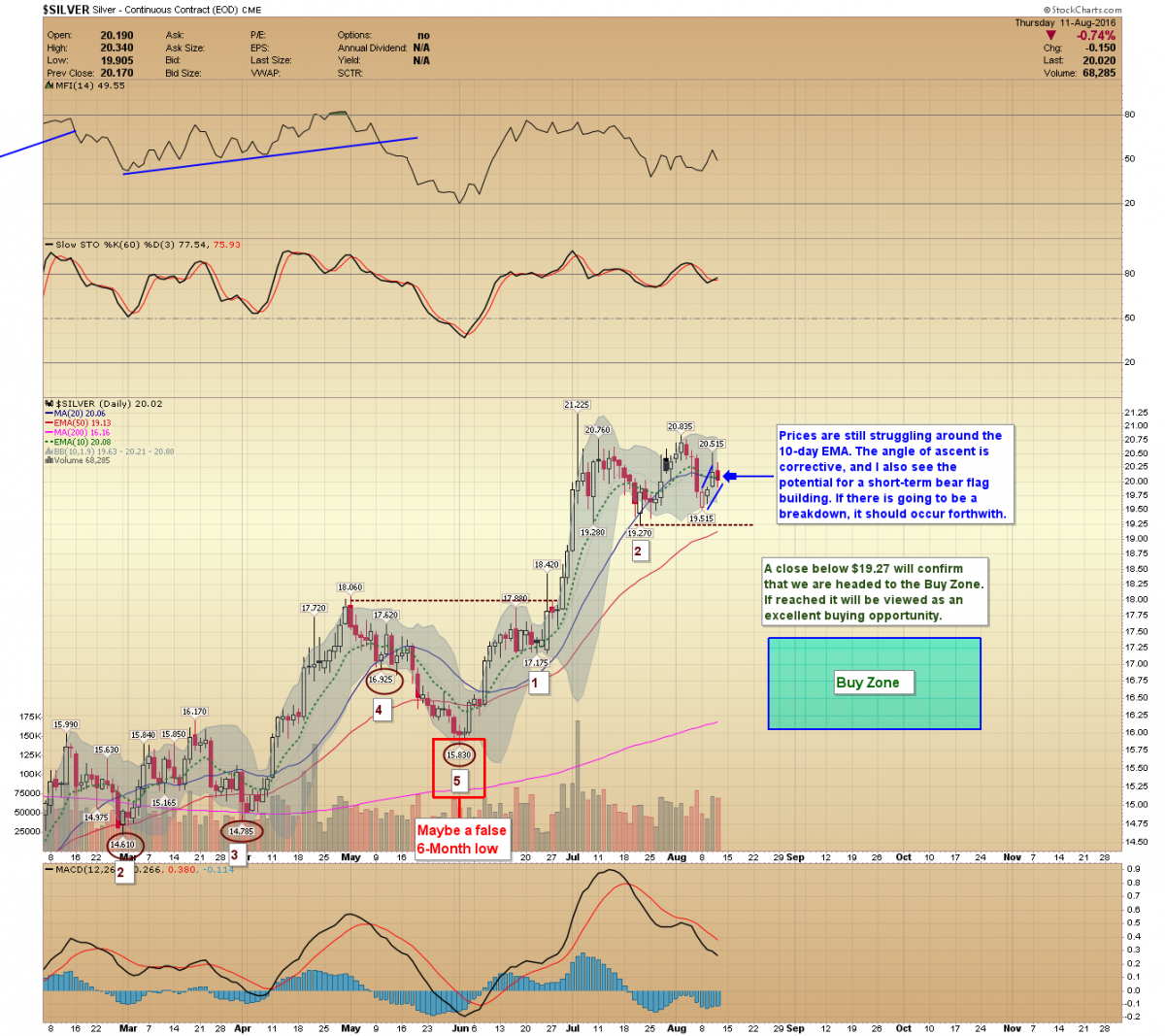 GDX Daily Chart
Miners made another high yesterday, but closed negative for the day. A potential sign of distribution and a top forming. Prices need to drop below $27.44 to confirm the deeper correction. This translates to a target of approximately 200 in the HUI.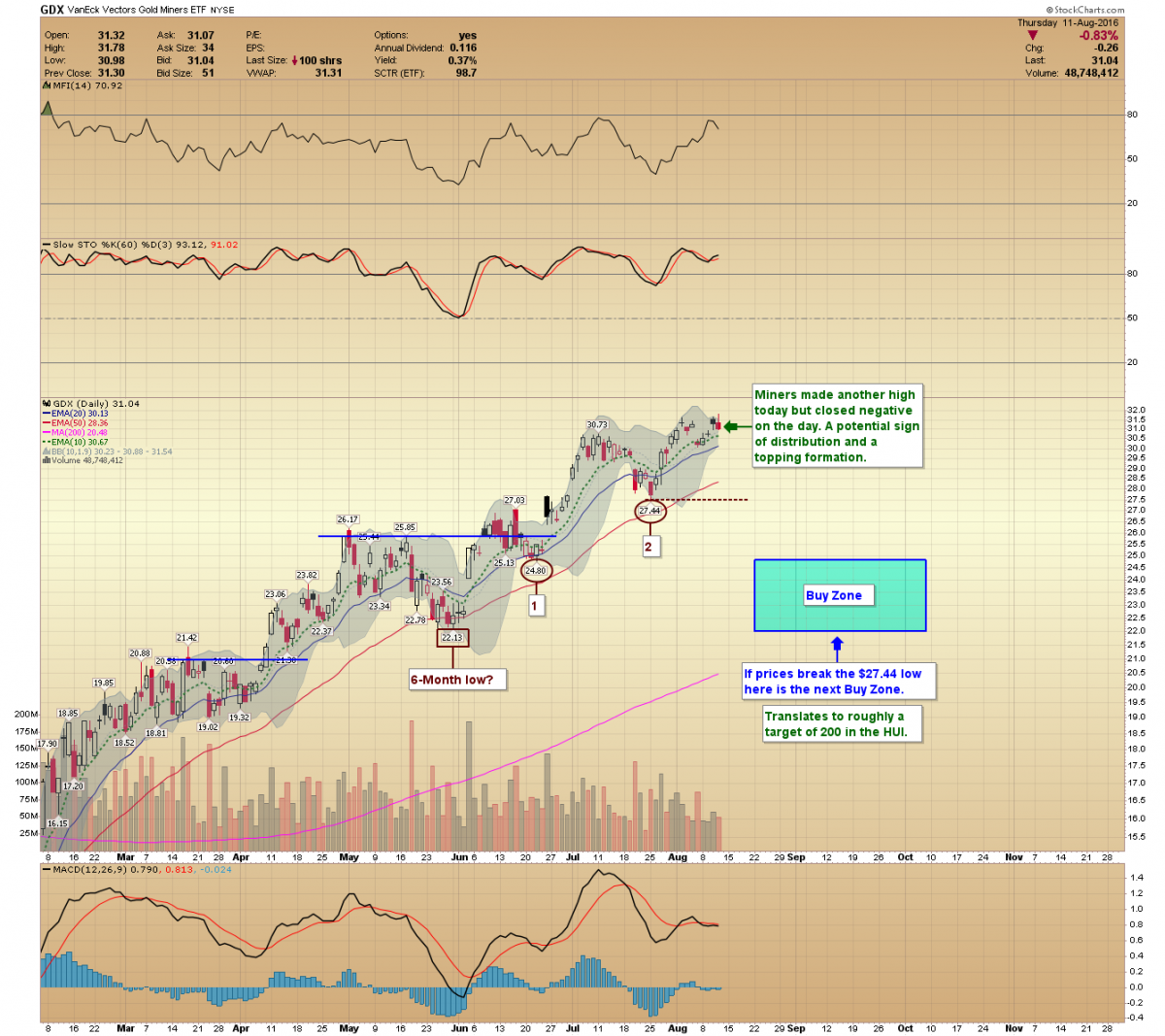 GDXJ Chart
The junior mining ETF closed on the lows of the day and could be setting up for a sharp move lower. A successful breakout above the $51.85 level will void the bearish patterns. The optimum target for GDXJ is near the $35.00 level.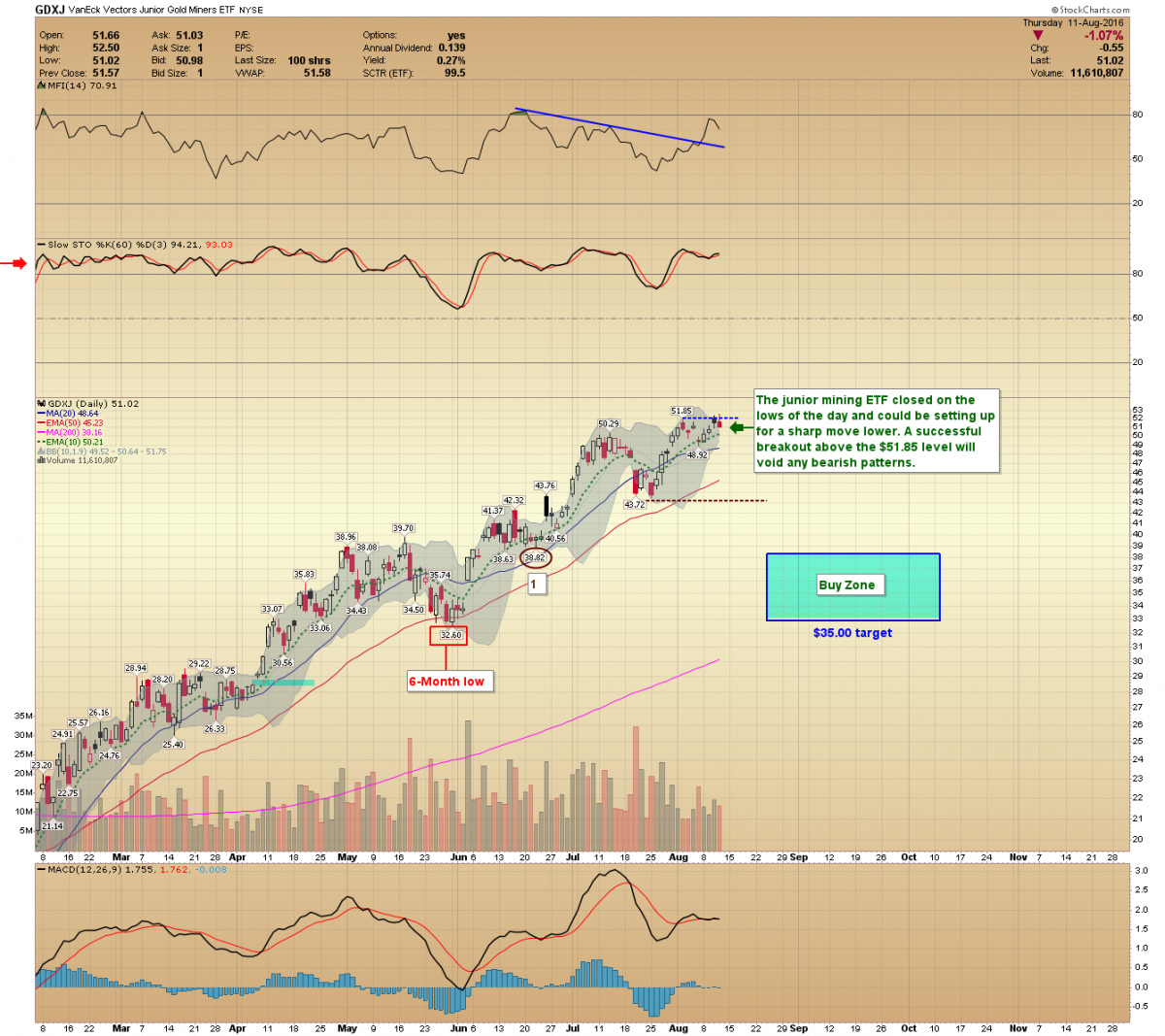 Bottom Line
If there aren't significant improvements in precious metal prices soon, I will sell my short-term positions and hedge longs. I will update as long as the warning flag is lifted. If gold breaks below $1,310, and silver below $19.27, I will issue color code changes confirming the tops, and we will look for lower prices in September.
There is no guarantee the price will drop to the potential target areas listed. However, it is a distinct possibility, and you should be made aware…For those investors waiting on the sidelines, this could be another chance to buy.
Disclosure: The above article has been edited ([ ]) and abridged (…) by the editorial team at munKNEE.com (Your Key to Making Money!) to provide a fast and easy read.
"Follow the munKNEE" on Facebook, on Twitter or via our FREE bi-weekly Market Intelligence Report newsletter (see sample here , sign up in top right hand corner)