Don't get too distracted by soaring stock markets and parabolic
cryptocurrencies. Pay attention to gold prices. The yellow precious metal continues to present the opportunity of a lifetime…Gold is selling at a severely low valuation among all the other assets out there and it's extremely ignored. It could soar.
The original article by Moe Sulfiqar has been edited for length (…) and clarity ([ ]) by munKNEE.com to provide a fast & easy read. For all the latest – and best – financial articles sign up (in the top right corner) for your free bi-weekly Market Intelligence Report newsletter (see sample here)
One of the best ways to look at the value of gold relative to stock prices is to look at the Dow-to-Gold ratio. At its core, this says how many ounces of gold it takes to buy one share of the Dow Jones Industrial Average (DJIA). Look at the chart below. It plots this ratio since 1970.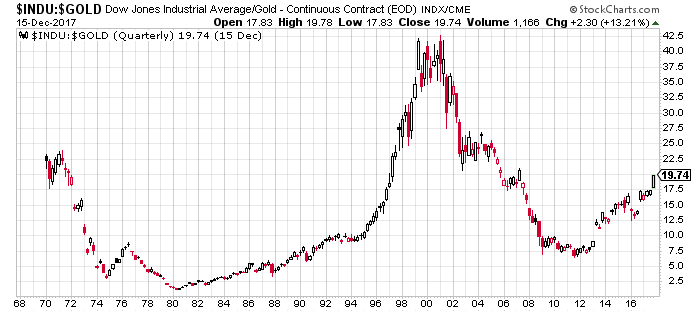 Chart courtesy of StockCharts.com
Currently, the Dow-to-Gold ratio stands at 19.74. This means it takes 19.74 ounces to buy one share of the DJIA. The average monthly Dow-to-Gold ratio since 1970 is around 13 so if we assume the Dow Jones Industrial Average remains at the current level (24,800) and this ratio moves toward its long-term average of 13, then gold prices would have to increase to around $1,900. That's roughly 50% above the current price.
This ratio has gone as low as 7.5 in 2012 and 1.5 in 1980 and, if we assume it hits 7.5 and the Dow remains at the current level, gold prices would have to reach roughly $3,300 an ounce!…
Scroll to very bottom of page & add your comments on this article. We want to share what you have to say!
Related Articles from the munKNEE Vault:
1. Dow-to-Gold Ratio Says Gold Prices Could Be Headed Much Higher
When trying to asses gold prices, it's critical for investors to pay close attention to the Dow-to-gold ratio. At its core, the ratio says how many ounces of gold it would take to buy one share of the Dow Jones Industrial Average. It's a powerful ratio when valuing gold prices and it isn't talked about much in the mainstream.
2. Gold Has Bottomed & Should Rally Over 10% In January/February
Each of the last three years have begun with gold rallies of over 10%. The stage is set for another such move in 2018. Are you prepared?
3. Place Your Bets: Gold Prices Will Break Out In 2018 – Here's Why
Gold just entered a new bull market but the price of gold has failed to garner any meaningful rally so, what gives? Why haven't gold prices rallied? Well, it's just a matter of time.
4. Explosion To the Upside Coming In the Dollar Price Of Gold – Here's Why
There are many compelling reasons why gold should outperform over the coming months.
5. These Technical Developments Suggest Gold May Be About to Get Its Shine Back In A Big Way
Gold may be about to get its shine back in a big way, as a number of significant technical developments suggest a strong potential for the resumption of the bullish medium- and long-term trend. [Here are the specifics.]
6. Gold Going Beyond $3,000/ozt; Gold Miners/Gold Ratio To Double!
Gold is going to be moving sharply higher – and Gold Miners are going to be going through the ROOF. If you're not taking steps to actively profit from this, it's time to get a move on.
7. 5 Charts Suggest Much Higher Gold Prices – Take A Look!
The best way to maximize market profits is to identify the direction of the primary trend and position yourself with it. This post looks at five charts which analyze the long term trend and prospects for gold and they all support the long term trend in the gold price. Take a look.
8. Your Portfolio Should Have 2-9% Physical Gold In It – Here's Why
Because investment professionals are generally well informed, competing in an industry in which performance is king, one would assume any asset class deserving of rightful consideration would enjoy a fair hearing so it begs the question "Why Doesn't Gold Get The Respect It Deserves?"
9.Now's the Time To Diversify Into Physical Gold – Here's Why & How
The time is now to diversify into gold. All markets cycle, and a down-cycle for stocks and an upcycle for precious metals is on the doorstep. Take some of your profits and buy some undervalued gold.
10. 9 Bullish Arguments for Gold
Dr. Martin Murenbeeld, chief economist for Dundee Wealth Economics and one of the smartest gold minds around, outlines below his nine bullish arguments for gold.
11. Prepare & Prosper – Gold Equities Could Experience +1000% Returns Once Again!
We are in the eye of the storm and when the other side of the vortex engulfs us gold and silver will increase considerably, their associated stocks will go up substantially and their warrants, where available, will escalate dramatically. With what has happened in the world of late and what will be unfolding in the next 5 years or so those few investors who fully understand the impact the current economic situation is going to have on future inflation, the USD, interest rates, the stock market, physical gold and silver and gold and silver stocks and warrants in particular are going to be in the unique position of being the benefactors of currently unimaginable returns and wealth. All they need do, as I like to say, is "Just prepare and prosper!"
12. These Sites Are the BEST Places to Buy Gold & Silver Online – Here's Why
Our review of the best places to buy gold online are dependent on what your goal with the gold is — amassing physical bullion for financial security or to speculate on gold prices. Below are strategies and recommended dealers for each approach.
One of gold's allures is its use as a hedge against negative economic outcomes: inflation, deflation, general economic collapse and even war [with] investors and speculators enter[ing] the market based on their guesstimate of how bad things might get. [An analysis of] how gold performs during inflation and deflation [suggests, however, that there has to be some another] market force – some secret force – that has driven gold prices by +370% over the last 10 years.
14. What Do Current Economic/Market Conditions Mean For the Future Price of Gold? 
Markets are expressing no fear and seem very comfortable at, or near, all-time tops. There is no concern that stocks are massively overvalued or that bond rates are at historical lows and only have one way to go so, whilst we are waiting for markets to wake up from the dream state they are in now, what signals should we look for and what about timing?