"…Don't fall in love with this stock market rally. With most major averages having achieved sub-20% declines in
recent weeks, stocks are likely in the early stages of a bear market. Although stocks could go marginally higher in the short-term, they ultimately will likely continue to slip sideways and slide downwards…to a bottom somewhere around the 1,500-1,800 level on the S&P 500, where general stock valuations will much better reflect their long-term, historic median valuations."
Prepared by Lorimer Wilson, editor of munKNEE.com – Your KEY To Making Money! 
[Editor's Note:
This version

* of the original article by

Victor Dergunov

has been edited ([ ]), restructured and abridged (…) by 85% for a FASTER – and easier – read. Dergunov is receiving compensation from Seeking Alpha for pageviews of his original unedited article as posted there so please refer to it for more detail. Please note: This complete paragraph must be included in any re-posting to avoid copyright infringement.]

"In fact, the mean Schiller P/E ratio for the S&P 500 is just 16.59, and the current ratio is still quite high at 27.51. Therefore, on average, stocks in the S&P 500 would need to fall by another 40% for this ratio to revert back to its mean. A 40% fallback from current levels would bring the S&P 500 back down to 1,500. This level may be achieved in the second half of 2019, or in 2020, and will likely represent a good level to accumulate shares for the next bull market advancement…

SPX 1-Year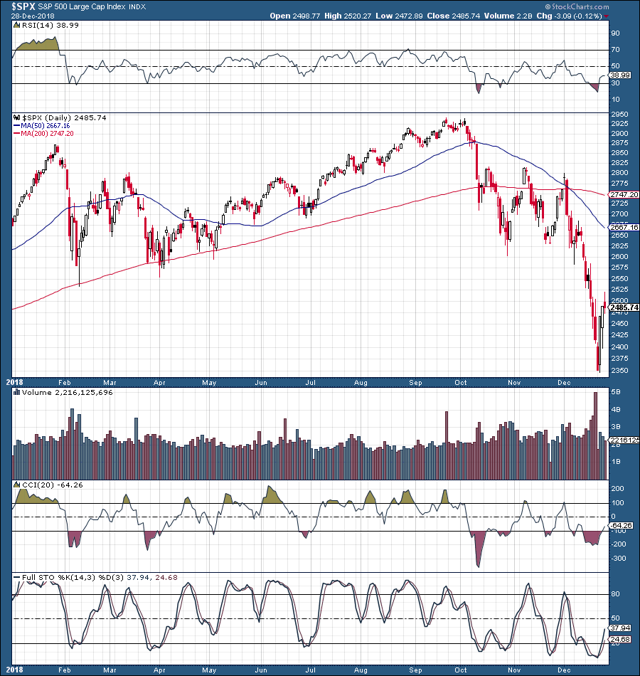 This is not a healthy development, and one reason for the massive decline is likely that the market is trying to tell us something. Perhaps that a significant economic downturn or a recession lies ahead.
5 out of the past 6 recessions were directly preceded by a bear market in equities. The only exception is the early 1990s where the recession was extremely mild and coincided with the start of the 1990s' tech and dot com boom. Aside from this instance, bear markets and recessions have gone hand in hand over the past 50 years. Why should this time be any different?
Source: BusinessInsider.com
The economy still appears relatively healthy, however, which is not an uncommon phenomenon before a recessionary downturn materializes but, if we look deeper beneath the surface, it becomes evident that the "health" of the economy had been predicated on:
extremely cheap credit,
ultra-low rates,
an essentially unlimited supply of debt,
and a substantial dose of late cycle stimulus.
Some indicators suggest, however, that a recession is indeed likely to arrive soon and we are likely to see a leveling and a possible fall-off from peak levels. As such, we could see a drop in GDP YoY in 2019, which…[would] likely coincide with an official recession in the second half of the year.
Furthermore, several factors in the surrounding economic atmosphere imply the upcoming recession could be significant and may cause substantial damage to the economy and the stock market alike. Moreover, the recession is likely to be exacerbated by a flattening in consumer spending, less investment on the corporate side, and a continued high trade deficit.
…The economic dynamics appear to be shifting notably, and the general health of the economy may be in great jeopardy."
(*The author's views and conclusions are unaltered and no personal comments have been included to maintain the integrity of the original article. Furthermore, the views, conclusions and any recommendations offered in this article are not to be construed as an endorsement of such by the editor.)
For the latest – and most informative – financial articles sign up (in the top right corner) for your FREE bi-weekly Market Intelligence Report newsletter (see sample here).
If you enjoyed reading the above article please hit the "Like" button, and if you'd like to be notified of future articles, hit that "Follow" link.
Want your very own financial site? munKNEE.com is being GIVEN away – Check it out!
A note from Lorimer Wilson, owner/editor of munKNEE.com – Your KEY to Making Money!:
"Illness necessitates that I spend less time on this unique & successful site so:
if you're interested in exploring the opportunity of taking the site to the next level as associate editor/webmaster
and being rewarded with full ownership – at absolutely no cost to you – at the end of the second year of involvement
please indicate your interest in the Comment section below
and I will get in touch with you."