An attractive aspect of owning dividend paying stocks, specifically,
dividend growth equities, is the fact they tend to hold up better in down market environments. The favorable result from this characteristic is it takes a smaller upside return to make up the losses incurred in a market decline. [Here are the details.]
By David I. Templeton (disciplinedinvesting.blogspot.com) – an edited ([ ]) & abridged (…) version of the original to ensure you a fast & easy read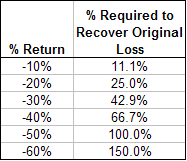 …The recent downturn in the equity markets from early last year, the favorable performance of dividend paying stocks is… evident. For the year-to-date period, both the iShares Select Dividend ETF (NYSEARCA:DVY) and the SPDR Dividend ETF (NYSEARCA:SDY) are outperforming the S&P 500 Index as seen in the chart below. During the market pullback from December 31, 2015 through February 11, 2016, the dividend focused ETFs held up significantly better than the S&P 500 Index itself. As the market has recovered, the dividend paying indexes are maintaining their outperformance and have recovered the losses incurred in the pullback.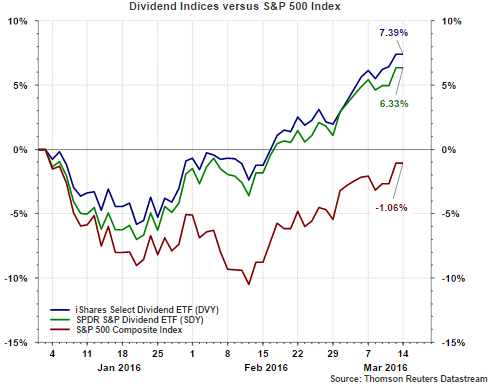 …[F]inally, just looking at all the dividend paying stocks in the S&P 500 Index, for the first two months of the year, S&P Dow Jones Indices reports the average return of the payers was down 2.71% versus the non-payers being down 7.81%.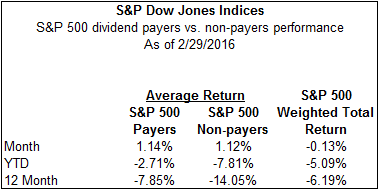 Source: S&P Dow Jones Indices
As investors evaluate dividend strategies, they are cautioned that each is different in significant ways. For example:
the iShares Select Dividend ETF has 34% of its stock weighting allocated to the utilities sector while at the same time having only 2% exposed to technology;
the SPDR Dividend ETF is a bit less concentrated as utilities account for 11% of its stock weighting. The largest sector exposure is financials at 24%. Again, similar to DVY, the technology sector weighting is only 2%. For comparison purposes, the broader S&P 500 Index has a 21% weighting in technology and a 3% weighting in utilities.
The attractive aspect of investing in dividend paying investments is their favorable qualities exhibited in down markets. Conversely, in a market that is tilted towards 'risk-on', the dividend paying stocks do have the propensity to trail the broader market….
Disclosure: The original article, as posted on SeekingAlpha.com, may have been slightly edited ([ ]) and abridged (…) by the editorial team at munKNEE.com (Your Key to Making Money!)   to provide you with a fast and easy read.
"Follow the munKNEE" on Facebook, on Twitter or via our FREE bi-weekly Market Intelligence Report newsletter (see sample here , sign up in top right hand corner)
Related Articles from the munKNEE Vault:
1.  Avoid Stock Market Volatility By Investing In These Stocks
It would be an understatement to call the recent stock market activity turbulent. High stock price volatility makes investors anxious and some people even to become downright frightened…There is a viable antidote, however, that is capable of calming investors down by empowering them to focus on one of the least volatile markets in all of finance… Additionally, this market is predictable, consistent and produces significant levels of income. Even better, this market represents a primary source of long-term returns, and consistently rises over time. Unfortunately, this market is hardly acknowledged or recognized by most people. Therefore, this article is offered and dedicated to enlighten investors about this powerful yet often ignored market.
2. Where Should You Put Your Money? Why?
The question comes up again and again and again; where do you put your money? Well, there is a way to invest that makes sense, that's easy to implement, and that has a high chance of succeeding in meeting your long-term goals at the end of the road. Let me explain.
3. The World's Best Income Stocks & How They Were Arrived At
Dividends are a key part of most investors' financial strategy. However, not all dividends are created equal, and chasing yield can often end in tears. To help investors select the best income stocks, Société Générale publishes a monthly income screen, highlighting the best dividend stocks in developed markets based on a number of quality criteria. The bank also publishes a high dividend risk screen, which picks out those companies that are most likely to cut their dividends in the near future. Hopefully, they will help you improve your investing process to some degree.
I believe each of these 10 companies represent a high level of safety and the opportunity to produce above-average current dividend income and long-term dividend growth.
5. 10 Attractive Dividend Paying Stocks For the Long Haul
This article presents 10 Dividend Contenders that I considered most attractive based on valuation and forecast long-term earnings and dividend growth. Hopefully, there is something here for every reader depending upon their own unique investment goals and objectives.