"Commodities as a whole are bottoming, having hit 40+ year lows on both an absolute (US dollar terms) and
relative (compared to stocks) basis…are facing a critical support test over the next several weeks. [That being said, we don't know just] what shape the bottom process will take: a 3-4 year affair, or something that potentially drags on for over a decade."
By Lorimer Wilson, editor of munKNEE.com – Your KEY To Making Money! 
[
This article

 

of edited excerpts

* (446 words) from the original article (900 words) 

by

Bullion Exchanges

 provides you with a 50% FASTER – and EASIER – read.  Please note: This complete paragraph, and a link back to the original article, must be included in any article re-posting to avoid copyright infringement.]

"Below is the critical support test that is pending, with the longer-term view and discussion following:

Stage 1 Base Resistance Zone

In the first chart below, note the 9 attempts (red arrows) since late 2015 to break higher from the (black) resistance zone between 197 and 203 on the index. These multiple attempts to overcome a specific zone of sellers are what define a stage 1 base resistance zone.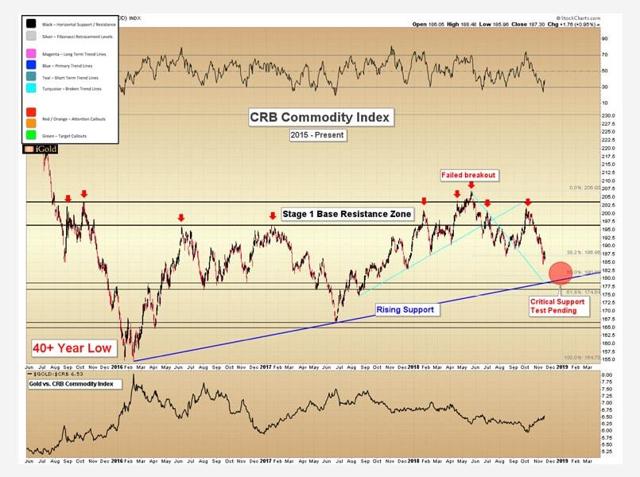 Since the most recent failed breakout attempt that occurred in early October, commodities have fallen by approximately 9%, from 206 to 184 on the index. The critical support test that is coming up is highlighted in red, where the sector will test support from the following three levels:
The 50% Fibonacci retracement of the entire advance off the 2016 bottom, coming at 181 (

light silver

lines).
Rising 2016 – present support (

blue

), which comes in at 178.
A range of horizontal support which exists between 176 and 178 (

black

lines).
In sum, this is a fairly strong confluence of support which exists between the narrow 176–181 range on the CRB, and for the week, the index closed just at 187. This support zone is the next obvious level for the sector to test on the downside, and it needs to hold.
A Bottoming Process Is Underway
How do we know this is a bottoming process? The commodity complex is at 40+ year lows, in a support zone which has corresponded with important previous bottoms since 1975.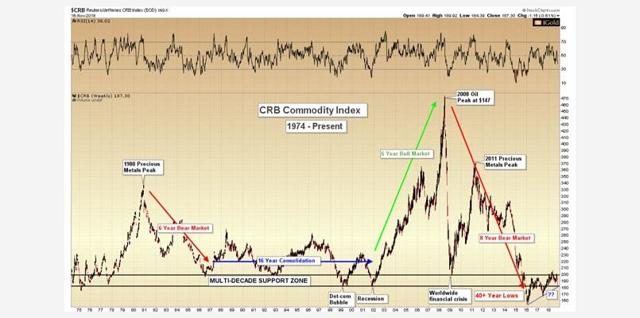 Commodities had fallen 67% since the 2008 high to the 2016 bottom. This, for an asset class that cannot fall 100%.
Unless commodities are about to become cheaper than they ever have been in the post-Bretton Woods era, then the three-year upward-slanted process since 2016 represents a distinct bottom within a historical high-probability zone for such to occur.
What is the Significance of this Support Test?
Whether or not the CRB can hold above this support zone will tell us much about what trajectory we should expect for most commodities into the 2020s…a new bull market in commodities within the next 12–18 months, or…delayed by perhaps 1-2 decades?…We will need to adjust our strategy depending on…[which way the CRB goes]…
Takeaway on Commodities
…Commodities have been basing for nearly 3 years under clear stage 1 resistance [and are] now facing an important support test in the 176–181 zone. How this support test resolves will tell us much about what to expect – especially for the sector into the next decade and possibly beyond…"
(*The author's views and conclusions are unaltered and no personal comments have been included to maintain the integrity of the original article. Furthermore, the views, conclusions and any recommendations offered in this article are not to be construed as an endorsement of such by the editor.)
Want your very own financial site? munKNEE.com is being GIVEN away – Check it out!
For the latest – and most informative – financial articles sign up (in the top right corner) for your FREE bi-weekly Market Intelligence Report newsletter (see sample here).
If you enjoyed reading the above article please hit the "Like" button, and if you'd like to be notified of future articles, hit that "Follow" link.