"…Although corporate earnings growth continues to trend higher, and U.S. economic fundamentals remain
positive, that hasn't stopped many investors and analysts from assuming a worst-case scenario for the stock market. In fact, a rather fierce debate is raging as to whether or not the bull market still remains alive."
By Lorimer Wilson, editor of munKNEE.com – Your KEY To Making Money! 
[
This article of edited excerpts

* (618 words) from the original article (1511 words) by Clif Droke provides you with a 59% FASTER – and EASIER – read. Droke is receiving compensation from Seeking Alpha for pageviews of his original article as posted there so please refer to it for more detail.  Please note: This complete paragraph, and a link back to the original article, must be included in any article re-posting to avoid copyright infringement.]

"The bears point out that by late October, over 40% of S&P 500 stocks had entered traditional bear market territory by declining 20% or more. They also argue that rising interest rates, plunging oil prices, and the problems plaguing U.S.-China trade relations all justify a bearish outlook….

It's clear that interest rate worries continue to haunt investors…This palpable fear, however, is a strong argument against the bull market being in serious jeopardy of ending. There's an old saying on Wall Street which says that a bull market climbs a wall of worry while a bear market slides down a slope of hope. If rising rates were truly a threat to the bull's survival, it's likely that investors would be rationalizing away the problem rather than incessantly worrying about it.
The very existence of this high-profile fear over higher rates is actually a positive for the stock market, for it shows that the market is well aware of the danger and has most likely already discounted the problem.

[In addition,]…

the major averages, led by the S&P 500 Index (SPX), have held up reasonably well in recent weeks despite a continuous barrage of headline-related worries.
…If this were truly a bear market, headline-related worries would be sufficient by themselves to continually force stock prices lower. A stock market in which the bears are in control is easily raided, and bad news tends to beget additional selling pressure when bearish conditions prevail. This isn't a concern right now, as can be seen in the following graph of the NYSE Composite Index (NYA).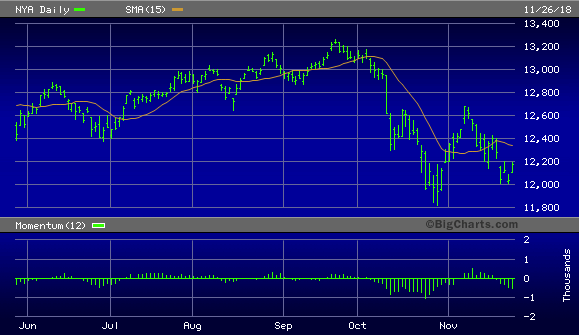 Source: BigCharts
If this is truly the start of a new bear market, then we should soon be seeing signs of major new weakness.
The NYA, along with the other major averages, would likely fail to rally in December and break below the October lows. A failure to rally in December is traditionally considered as an ominous sign and has spawned a famous bromide: "If Santa Claus fails to call, bears may come to Broad and Wall."
If there is no additional upside follow-through in the next few weeks, the bears will certainly have greater support for their case. That said, there is still no reason for expecting bearish conditions to prevail…
At some point in the coming weeks, we should see:
investors gradually coming to realize that the threat to the bull market posed by interest rates isn't as critical as they formerly thought

…it's only when 10-year Treasury yields rise above 4% that the threat of a rate-related bear market becomes real. At the current rate of 3.07%, we're still a ways from having to face this threat.

a reversal of the recent trend where more stocks make new lows than new highs on most days

. Once we see the needed improvement in the new highs and lows, we'll have confirmation that the internal condition of the broad market has sufficiently healed to allow the bulls to regain full control of the stock market's immediate-term (1-4 week) trend.
Conclusion
…While internal weakness continues to plague the broad market,

the long-term bull market which began in 2009 is still firmly intact

.
While the market remains vulnerable to volatility,

there is no reason based on the evidence discussed here to conclude that the bears have gained control of the longer-term trend.

Rather, the weight of evidence suggests that:

benign equity market conditions still prevail and that

the 2-month volatility period is just a "correction" of an ongoing bull market

."
(*The author's views and conclusions are unaltered and no personal comments have been included to maintain the integrity of the original article. Furthermore, the views, conclusions and any recommendations offered in this article are not to be construed as an endorsement of such by the editor.)
 Want your very own financial site? munKNEE.com is being given away – Check it out!
For the latest – and most informative – financial articles sign up (in the top right corner) for your FREE bi-weekly Market Intelligence Report newsletter (see sample here).
If you enjoyed reading the above article please hit the "Like" button, and if you'd like to be notified of future articles, hit that "Follow" link.