…I hate to say I told you so, but my prediction a year ago that the bull market will end on May 10, 2019 at 4:00 PM is starting to look pretty good.

This introductory version of the original article, by The Mad Hedge Fund Trader, has been edited* by munKNEE.com for length (…) and clarity ([ ]) to provide a fast & easy read.  For the latest – and most informative – financial articles sign up (in the top right corner) for your 

FREE 

bi-weekly Market Intelligence Report newsletter (see sample here)

If I am right, the charts for the S&P 500 (SPY) are setting up a long-term classic head and shoulders top. The left shoulder was created by the January 2018 rally to $282. We just saw the head created at the beginning of October at $293. All that remains is to build the right shoulder back up to $282 by the spring. What will then follow is the crying.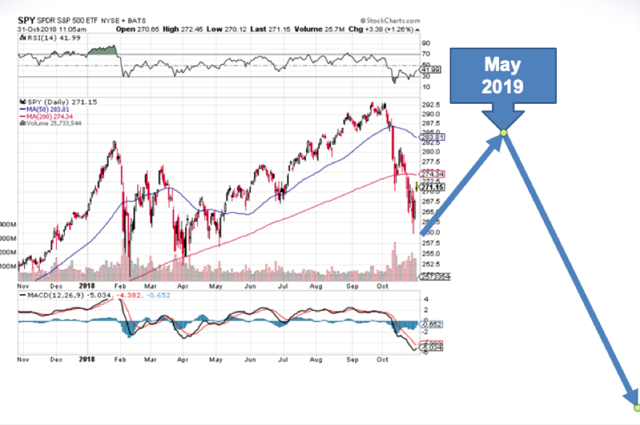 This is not a matter of throwing a dart at a calendar or reciting a chant taught to me by a long-dead Yaqui Indian. It is a simple matter of math. Here's how it goes:…(read the full article here).  
[The author is receiving compensation from Seeking Alpha for pageviews of his original article as posted there so it is only appropriate that munKNEE.com only provide the above introductory excerpts and refer you to said original article for the balance of his reasoning and conclusion.] 
#munKNEE.com being given away – Check it out!
(*The author's views and conclusions are unaltered and no personal comments have been included to maintain the integrity of the original article. Furthermore, the views, conclusions and any recommendations offered in this article are not to be construed as an endorsement of such by the editor.}