…Today, we'll explore the dividend-rich side of hospitality via a
trio of hotel REITs (real estate investment trusts) yielding up to 7% that invest in upper-echelon hotel and resort real estate.
The comments above & below are edited ([ ]) and abridged (…) excerpts from the
original article

written by Brett Owens (ContrarianOutlook.com)

The hotel industry is booming as America's economic recovery continues. In 2016, hotel revenues across the board climbed more than 4% to hit nearly $200 billion – a record high. Meanwhile, STR and Tourism Economics forecast that U.S. hotels will continue chugging up the mountain over the next few years.
Upscale and luxury hotel REITs are particularly well positioned to grab a chunk of the increasing wealth of the affluent class and, being REITs, they will dish the majority of it back to us as dividends.
Here are three hotel-focused REITs that pay sizable yields (up to 7%). Two of them have big upside potential while the third is proof-positive that even a bright industry has a few bad seeds.
Apple Hospitality REIT (APLE)
Dividend: 6.3%
Apple Hospitality REIT owns a whopping 235 hotels spanning 33 states and containing 30,000 guestrooms. These properties feature mid-upscale brands across the Hilton and Marriott families – such as Hiltons, Hampton Inns, Embassy Suites, Fairfield Inns, Homewood Suites, Renaissance Hotels and more.
Apple Hospitality REIT is growing like a weed, with its total assets rocketing from $3.7 billion in 2015 to $5 billion last year, and analysts are expecting big things out of Apple Hospitality Trust going forward, including a 26% jump in net income to 96 cents per share in 2017. That could mean a bump to the REIT's monthly dividend, which was well-funded in 2016 by $1.76 per share in modified funds from operations – an important metric of REIT dividend safety.
Apple Hospitality's Fundamentals Are Heading in the Right Direction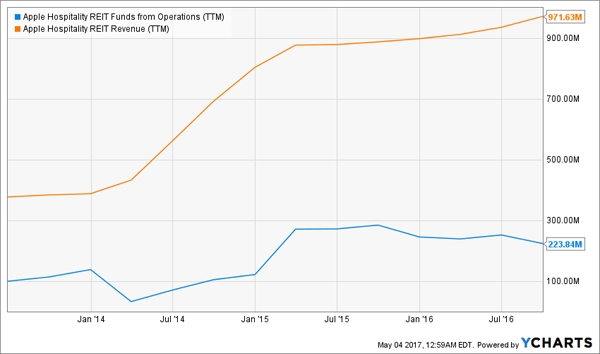 Ryman Hospitality Properties (RHP)
Dividend Yield: 5.1%
Ryman Hospitality Properties does more than just typical hotels – it primarily invests in "group-oriented, destination hotel assets." It's actually a small base of four properties – "meeting-focused" resorts under the Gaylord Hotels brand, but those four properties combine for just over 7,800 rooms.
The company also owns a small group of "entertainment brands" that include The Grand Ole Opry – yes, that Grand Ole Opry – the Ryman Auditorium, and even an AM radio station, 650 AM WSM.
Ryman's 80-cent payout represents just 66% of adjusted FFO of $1.22 from the first quarter, an 11% year-over-year improvement on that front. That means plenty of room for RHP to continue its robust dividend growth. Ryman has bolstered its dividend 60% since the company listed on the NYSE in 2012, and in the same time, shares have run 55% higher – double the Vanguard REIT ETF (VNQ).
Ryman Hospitality Is Backed by Increasing Strong Financials
Chesapeake Lodging Trust (CHSP)
Dividend Yield: 6.9%
Chesapeake Lodging Trust (CHSP) has the highest dividend of the bunch at nearly 7%, but that's about all CHSP really has to boast about at the moment.
CHSP targets the upper-upscale segment of the hotel market, and currently holds 22 properties for a total of nearly 6,700 rooms. It includes top city names such as the Hyatt Regency Boston, Le Meridien San Francisco and The Royal Palm-Miami South Beach.
The next couple of years could be difficult for Chesapeake Lodging Trust, which has scaled-back expectations for the next couple of years. Net income is expected to fall from 2016's $1.13 per share to about 78 cents this year before rebounding, but only to $1.07, in 2018. Yes, CHSP will be able to maintain its 40-cent quarterly dividend with full-year forecast AFFO of $2.15 per share at the midpoint … but that's a big step back from $2.39 per share in 2016.
Worse, CHSP hasn't seen a dividend increase since 2015's September payout…
Chesapeake Lodging's (CHSP) Dividend Is Stuck in Neutral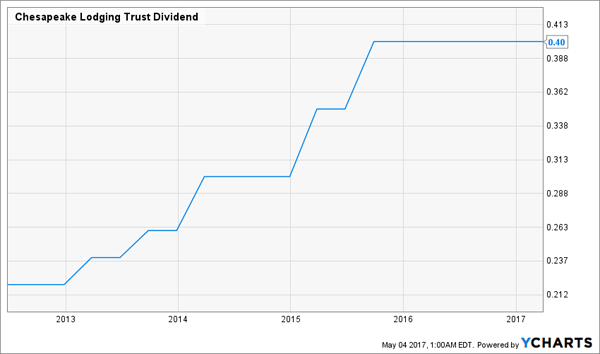 Chesapeake Lodging Trust is the perfect example of a retirement-busting stock. Yes, it's easy to get drawn in by the nice yield, but if that's all you're getting – no dividend growth, and no business growth – then inflation will ultimately erode your income, and you'll be stuck with an underperforming dud…
Thanks for reading! Visit our Facebook page (here) and "Like" any article so you can "Follow the munKNEE" and get future articles automatically delivered to your feed.
Win An iPad Pro!
TalkMarkets.com is so convinced you'll love their website they are raffling off an iPad Pro to those who registers here by June 30, 2017. For more information please read the contest Terms and Conditions.
975 authors contribute to TalkMarkets.com so check it out, register here and then program the site to provide you with exactly what you want by topic & author. Check out my profile & articles on TM here.
If you want more articles like the one above:

LIKE us

on

Facebook; "Follow the munKNEE" on Twitter or register to receive 

our

FREE

tri-weekly

newsletter (see sample here ,
sign up in top right hand corner

).