…[Below is] a pretty telling chart on how Amazon (AMZN) has affected the rest
of the retail market and, any way you look at it, the numbers are pretty insane.
The comments above and below are excerpts from an article by Ben Carlson (awealthofcommonsense.com) which has been edited ([ ]) and abridged (…) to provide a fast & easy read.
As you can see, Amazon has completely left everyone else in the dust. Amazon is eating the retail world.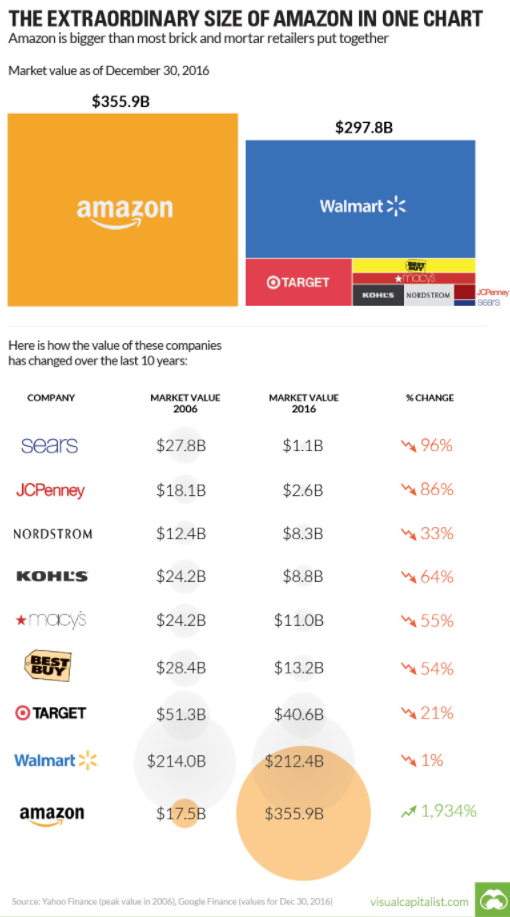 It's not a perfect comparison by any means because Amazon does some things most of these other companies don't (cloud service, streaming video, tablets, etc.), but any way you look at it these numbers are pretty insane.
Walmart's (WMT) market cap has more or less stayed the same, while everyone else, besides Amazon, has gotten destroyed. It's worth remembering, though, that the returns to an investor aren't simply calculated on a share price or market value scale. You also have to take into account factors such as share buybacks and dividends so I took a look at the actual total stock market performance of each of these companies (I also added in Costco (COST) and Bed Bath & Beyond (BBBY)) over the past 10 years through the end of 2016: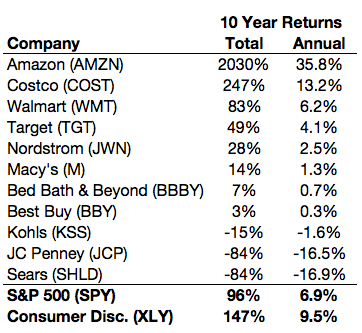 You can see that Amazon and Costco have completely left everyone else in the dust while Walmart did manage to earn a similar return as the S&P 500. It would seem that scale and customer experience have given both Amazon and Costco and enormous advantage over the competition in the past decade.
Just to make sure you don't assume these huge gains in Amazon have come easy, my colleague Michael Batnick looked [at] how difficult it would have been for investors had they held on for the entire ride up in Amazon stock since its IPO in 1997: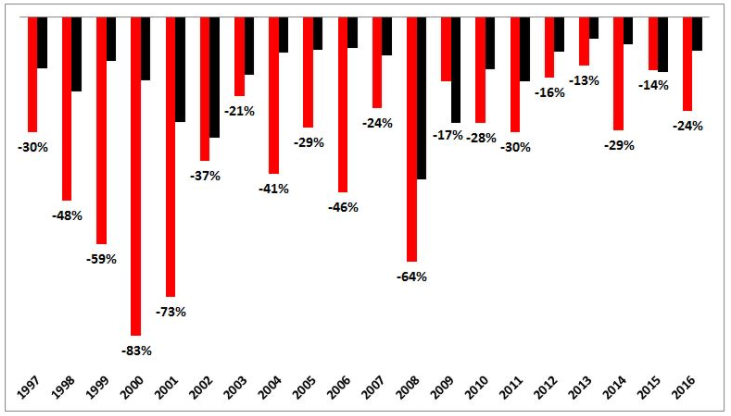 This chart shows the average intra-year drawdowns for both Amazon and the Dow. Amazon averaged a 36% drawdown each of the past 20 years.
Amazon the stock obviously can't keep up the same pace over the next 10 years, but regardless of what the stock does from here, I can't imagine that the company won't continue to steal share from the rest of the retail world. 
If you want more articles like the one above:

LIKE us

on

Facebook; "Follow the munKNEE" on Twitter or register to receive 

our

FREE

tri-weekly

newsletter (see sample here ,
sign up in top right hand corner

).