Insider buying refers to when insiders of a company, such as the management team or board of directors, purchase shares of company stock in the public market. There are many reasons why an insider might sell shares, but there is only one reason they are buying: they believe the stock is cheap and the price will rise.
…I feel miners are deeply undervalued and carry less overall risk as an investment compared to prior corrections.
Gold miners remain enormously profitable at spot gold prices, with all-in costs averaging around $1,000-$1,100 per troy ounce [ozt] for most major producers, so margins remain strong ($600/ozt-$700/ozt).
While mining shares have sold off quite a bit, profits are down slightly, but there is no reason to panic as the vast majority in this industry do not face bankruptcy risk unless gold falls by $500/oz or more.
As a sector, the miners are in much better shape to withstand a further drop in gold prices compared to the sell-off in 2013….[as] the sector has $6 billion net debt compared to $32 billion debt in 2013, according to a recent study by Metals Focus.
[Given] recent insider trading activity it would appear that insiders are more bullish here than retail investors…[when one observes] the Gold Miners Bullish Percent Index, a gauge of overbought and oversold conditions for the gold mining sector.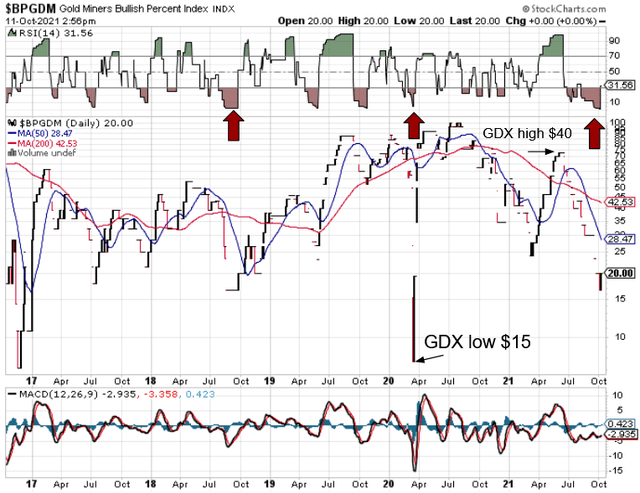 [The
original
article entitled
5 Gold Stocks With Recent Insider Buying
is exclusive to Seeking Alpha and can be read in its entirety
here
in which the author provides] an overview of the…[insider buying of 5 gold and silver stocks and insider selling of 2 gold and silver stocks and his] thoughts on each stock.
Author's notes: If you want more gold mining stock analysis, including insider buying updates, subscribe to The Gold Bull Portfolio and receive regular updates on gold mining stocks, access to all of my top gold and silver stock picks and my real-life gold portfolio. I offer a 37% discount on annual subscriptions vs. monthly, with a 30-day money back guarantee!
Editor's Note: 

The above article excerpts were
edited ([ ]) and abridged (…) for the sake of clarity and brevity to ensure a fast and easy read

.  The author's views and conclusions are unaltered and no personal comments have been included to maintain the integrity of the original article.  Furthermore, the views, conclusions and any recommendations offered in this article are not to be construed as an endorsement of such by the editor. A

lso

note that this complete paragraph must be included in any re-posting to avoid copyright infringement.
A Few Last Words: 
Click the "Like" button at the top of the page if you found this article a worthwhile read as this will help us build a bigger audience.
Comment below if you want to share your opinion or perspective with other readers and possibly exchange views with them.
Register to receive our free Market Intelligence Report newsletter (sample here) in the top right hand corner of this page.

Join us on

 Facebook to be automatically advised of the latest articles posted and to comment on any of them.
munKNEE.com has joined eResearch.com to provide you with individual company research articles and specific stock recommendations in addition to munKNEE's more general informative articles on the economy, the markets, and gold, silver and cannabis investing.
Check out eResearch. If you like what you see then…