Generally, stocks that have higher dividend yields tend to be those with fewer growth opportunities so, instead of sitting on large amounts of cash, they pay it out to the shareholders in the form of a dividend. That being said, the stocks on our list today all have high dividend yields, but have also experienced good share price appreciation, with net income increasing year over year by at least 25%, which could lead to an increase in the dividend payout.
The comments above and below are excerpts from an article by SmallCapPower.com which may have been enhanced – edited ([ ]) and abridged (…) – by 
munKNEE.com (Your Key to Making Money!)
 to provide you with a faster & easier read.  Register to receive our bi-weekly Market Intelligence Report newsletter (see sample here , sign up in top right hand corner.)
Savanna Energy Services Corp. (TSE:SVY) – $1.42
Oil & Gas Drilling
Savanna Energy Services Corp. (Savanna) is a drilling, well servicing and oilfield rentals company. The Company operates through three segments: corporate, services and drilling. The corporate segment provides management and administrative services to its subsidiaries and their respective operations. The services segment provides well servicing services and rental equipment to the oil and gas industry. The drilling segment provides contract drilling services to the oil and gas industry. Its business is conducted through two divisions: contract drilling and oilfield services.
Market Cap: $128 (mm)
Dividend Yield: 8.5%
YTD Price PCT Change: 15.4%
YoY % Chg in Net Income After Taxes: 28.54%

MCAN Mortgage Corp. (TSE:MKP) – $14.04
Banks
MCAN Mortgage Corporation (MCAN) is a Canada-based loan company and mortgage investment corporation. The Company's primary objective is to generate income by investing its corporate funds in a portfolio of mortgages (including single family residential, residential construction, non-residential construction and commercial loans), as well as other types of financial investments, loans and real estate investments. The Company's primary subsidiary, Xceed Mortgage Corporation (Xceed), focuses on the origination and sale to MCAN and third party mortgage aggregators of residential first-charge mortgage products across Canada.
Market Cap: $324 (mm)
Dividend yield: 8.3%
YTD Price PCT Change: 15.7%
YoY % Chg in Net Income After Taxes: 29.12%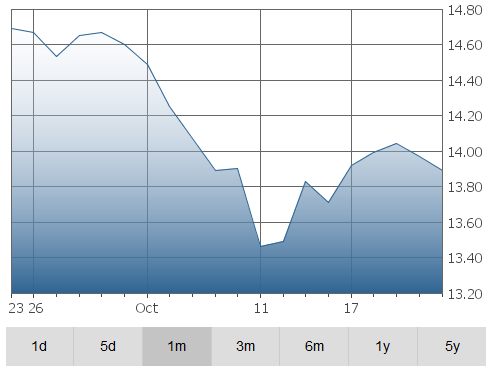 Stuart Olson Inc. (TSE:SOX) – $6.13
Construction & Engineering
Stuart Olson Inc. is a Canada-based construction and industrial services company. The Company's segments include General Contracting, Commercial Systems, Industrial Services, and Corporate and Other. The General Contracting segment, through the Buildings Group, provides general contracting services, including integrated project delivery, construction management and design-build services. The Commercial Systems segment includes Canem, which designs, builds, maintains and services critical building systems, including electrical and life safety systems, voice, data and communications networks, and security infrastructure. The Industrial Services segment offers various industrial construction and maintenance services.
Market Cap: $164 (mm)
Dividend yield: 7.8%
YTD Price PCT Change: 7.7%
YoY % Chg in Net Income After Taxes: 56.68%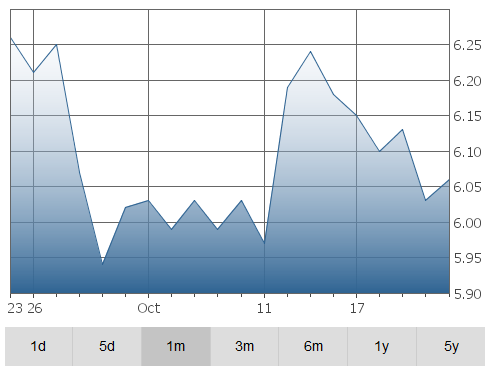 Student Transportation Inc. (TSE:STB) – $7.83
Passenger Transportation, Ground & Sea
Student Transportation Inc. is engaged in providing school bus transportation services in North America. The Company operates through two segments: transportation, and oil and gas. The transportation segment provides school bus and management services to public and private schools in North America. The oil and gas segment represents the Company's investments as a non-operator in oil and gas interests. The Company offers various services, such as contracted services, special needs transportation, charter services, direct to parent and used bus sales. The Company operates a fleet of approximately 13,000 vehicles.
Market Cap: $721 (mm)
Dividend yield: 7.4%
YTD Price PCT Change: 52.9%
YoY % Chg in Net Income After Taxes: 70.88%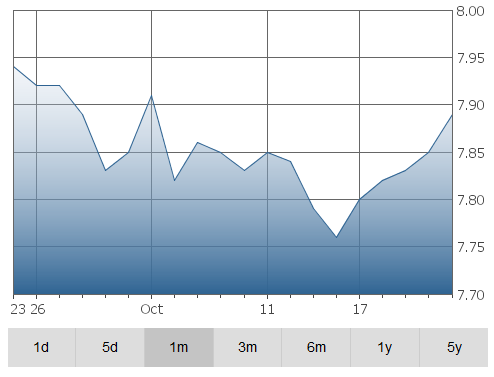 Follow the munKNEE – Your Key to Making Money!
"Like" this article

on Facebook

Have your say

on Twitter

Register to receive our

bi-weekly

Market Intelligence Report newsletter

(see sample

here

,

sign up in top right hand corner

)

 Share your thoughts

with us

in the comments section below

. We'd like to hear from you!
Related Articles from the munKNEE.com Vault:
1. Strong Zinc Price Should Continue to Benefit These 3 Silver Juniors
2. The 4 Silver Juniors With the Best Free Cash Flow Figures
The 4 mining stocks on our list today have exposure to silver. In addition, they have the best free cash flow figures compared to their competitors during the last 12 months.
3. These 5 Gold & Silver Equities Should Continue To Outperform
Precious metals thrive on volatility – the more uncertainty in the markets the more gains silver and gold will likely see – but how can investors make a rational decision regarding which specific stock to choose in this sector? One idea is to select those that have a positive net income. These stocks are generally safer as their costs have been normalized and are being covered by inflows of revenue and cash. The silver and gold stocks on our list today exhibit positive EPS figures, which we think will benefit its investors.
4.  4 Silver Penny Stocks That Should Continue To Shine
Silver's performance since April 1, 2016, has more than doubled that of gold. That being said, the silver names on our list today should continue to shine as all have undertaken significant debt, using that as leverage to enhance production initiatives and sell more silver at these elevated prices.
5. Physical Gold Is DOWN – These 4 Junior Gold Stocks Are UP
A low P/B ratio can signal an undervalued company, but it can also be brought on by a number of negative events. The companies on our list today, however, have tangible asset based on the nature of their operations, positive net income and relatively small amounts of debt, so the P/B ratio can still be applied and used to hopefully unlock some value.
7. 3 Gold Exploration Stocks To Put On Your Radar 
Gold exploration companies carry more risk than typical mining companies, but they also carry more upside potential. I try to target gold explorers that have high-potential gold deposits with exploration upside, favorable mining jurisdictions, close proximity to producing mines, and strong insider ownership. Here are three gold explorers that recently released positive drilling results, and my thoughts on each stock.
8. Analysts See 35%+ Price Target Upside For These 4 Small Cap Companies 
Analysts expect earnings to improve dramatically (35+%) for the 4 Canadian small cap companies on our list today, hence the high target price estimates.
9. Top Small Cap Canadian Dividend-Paying Growth Stocks
A popular valuation multiple within the resource industry is to take a company's market cap and divide it by its gold equivalent ounces in the ground. This ratio gives an indication as to how pricey one company's gold is in comparison to another's. As a reference, Barrick Gold (TSE:ABX) trades a 145 times its gold equivalent ounces in the ground, while Goldcorp (TSE:G) trades at 181x. That being said, the 5 low indebted gold stocks on our list today are trading below 55x.
11. 4 Mining Companies With Very Low Cost Structures Compared to Revenues 
In the face of low commodity prices, investors should give more preference to miners with lean cost structures. With that in mind, the 4 companies on our list today exhibit a low (below 5%) SG&A Expense as a % of Revenues ratio compared to the industry average of 30%.
12. 5 Junior Gold Stocks with Attractive Price-to-Book Ratios
Today's article identifies 5 junior gold stocks that are currently trading at a large discount to their peer group in terms of Price/Book Value and, based on that metric, could well represent good value.
13. 4 Penny Stocks With +10% Dividend Growth
A dividend-paying stock provides protection against capital depreciation, as well as a constant stream of income. The stocks on our list today have a track record of increasing their dividend payouts by more than 10% compounded.
14. These 5 Gold Stocks Are Likely to Appreciate Most In Value and Price – Here's Why
Many investors live by the saying – "Cash is King." The gold sector should be no exception as those gold miners that are able to bring in positive cash flow from their operations, while at the same time using some of it towards capital expansion, are the ones that are likely to appreciate most in value and price. This could apply to the five gold stocks on our list today.
15. You Won't Overpay For These 5 Penny Tech Stocks
Tech stocks have been moving higher in recent weeks but, before considering buying tech penny stocks, investors should always consider valuation multiples to make sure they are not overpaying. This article presents a list of 5 such stocks with low EV/EBITDA multiples compared to its peers.
16. These 4 Real Estate Investment Trusts (REITs) Should Develop Into Income-Yielding Machines
Real Estate Investment Trusts (REITs) have historically been stable, income-producing investments. In the small-cap REIT space, investors might want to take a look at these financially sound REITs that should develop into income-yielding machines.
17. These 5 Gold Stocks Have the Highest Return on Equity
The gold price has surged over 25% year-to-date, providing big gains in the gold sector as a whole. Companies that have generated strong earnings growth relative to total shareholders' equity should continue to outperform the sector and entire market. To measure this, we took a look at return on equity (ROE) values and found the top 5 gold stocks with the highest ROE.
18. These 5 Energy-Related Stocks Yield Hefty Dividends
The U.S. Dollar has appreciated somewhat due to the recent Brexit fears, also bringing down the price of oil, but, moving forward, we believe oil prices have a clear path towards US$55-60/barrel. As such, we suggest investors take a look at the five energy-related stocks described below that also generate hefty dividend yields.
19. 5 Gold Penny Stocks That Aren't Getting the Love They Likely Deserve
Gold has surged 20% year to date, powering many gold penny stocks up more than three fold, but the 5 names on our list could be considered undervalued due to the fact that they are trading at low sales multiples.