…Precious metals investors should temper their expectations for higher prices, and take appropriate defensive action. [Here's why.]
…Whether or not the Fed is ever successful at bringing inflation down by raising interest rates is immaterial – the market believes that the Fed will be successful, and the market is selling gold as a result. Those who disagree with the price action of the market itself will do so at their own peril over the coming years. [Let me explain.]
Gold has just broken lower from a pattern which was last triggered in 2013, following which it fell by nearly $500 over the next three years.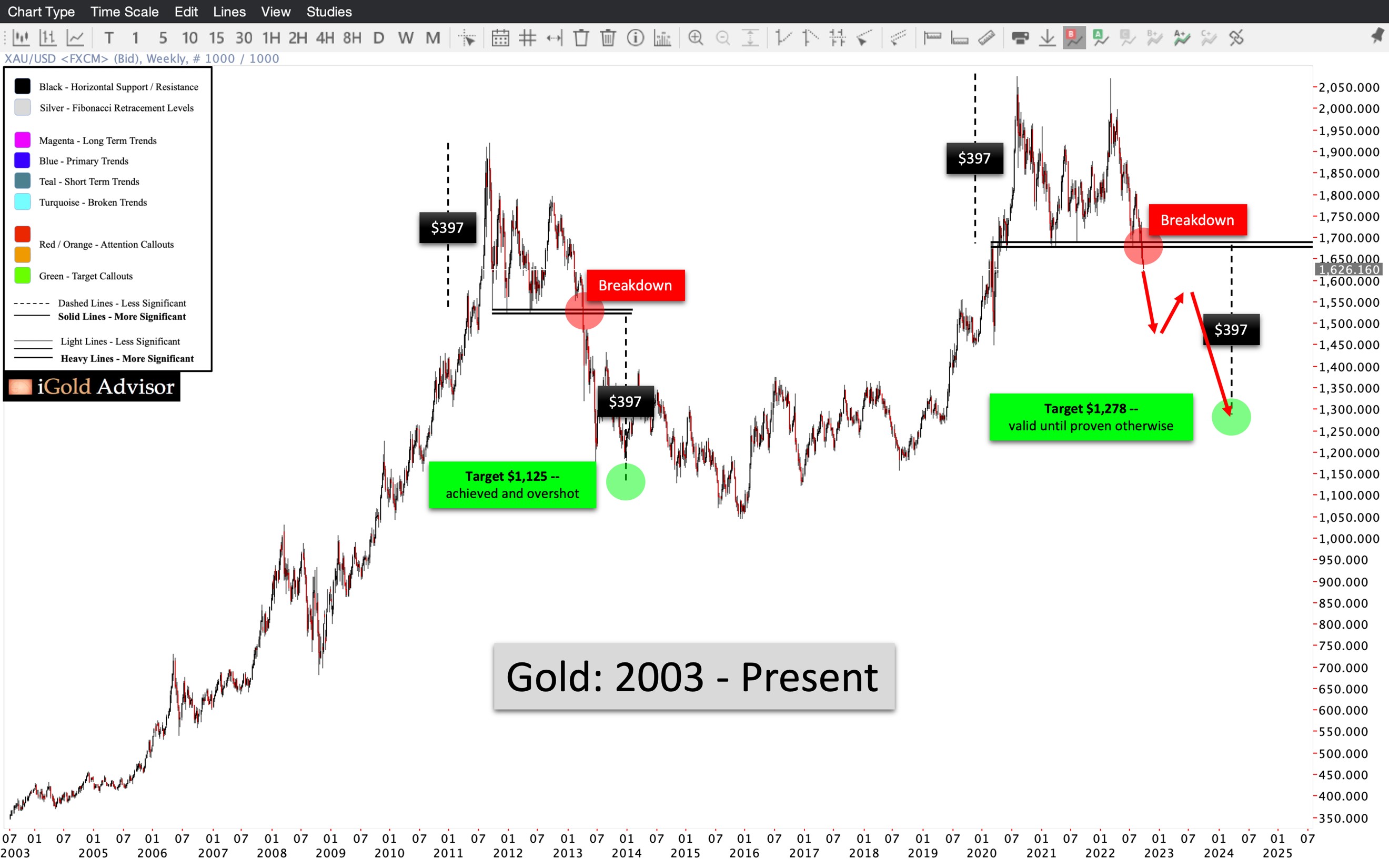 When gold broke lower through this consolidation in 2013 (red callout), we calculated a target of $1,125 (green), equal to the amplitude of the consolidation subtracted from the breakdown point.
This exact same breakdown as in 2013 has just been witnessed again for gold. The only difference is that this time it has been triggered from a slightly higher level. Whereas in 2013 the breakdown point was $1,522, this time the trigger point is $1,676. Note that the amplitude of the previous 2.5-years of consolidation is exactly the same as in 2013: $397.
To derive a target for a breakdown of this magnitude, we subtract the amplitude of the consolidation from the breakdown point, and arrive at a target of $1,278 for gold, i.e.: $1,676 – 397 = $1.27[9]. $1,278 is thus our official target for gold, valid until proven otherwise.
The above article by Lorimer Wilson, Managing Editor of munKNEE.com, is an edited ([ ]), abridged […], retitled, restructured, reformatted, highlighted and grammatically corrected version of an article by Christopher Aaron for the sake of brevity and clarity to ensure a fast and easy read.