A number of gold charts have caught my eye in recent days/weeks, so I thought it would be a good idea to collate them here.
Basically, the overarching theme is one of a bullish setup for gold and gold miners: sentiment/flows/positioning/technicals have become washed out – triggering a series of bullish tactical signals. Aside from sentiment and technicals, the macro picture short term provides potentially a bit of a window for a last laugh rally for gold as real yields run into resistance.
Enjoy the charts and let me know what you think.
1. Gold ETF Flows – Capitulation Mode: Previous episodes of gold ETF flow capitulation were followed by rallies in the gold price (albeit note the exception during the 2013-15 gold bear market).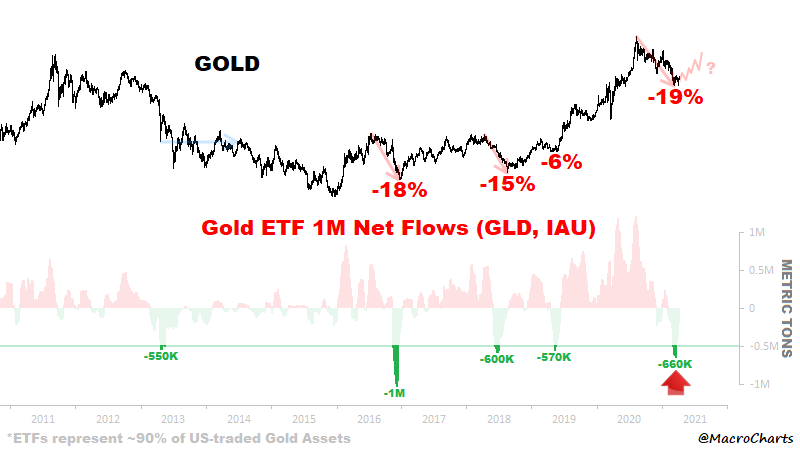 2. Rising Real Yields a Real Problem for Gold: Fairly clear and economically logical link here, but note that real yields are pulling back from resistance (real yields are inverted in this chart). Real yields likely head higher further out on reopening/recovery, fiscal stimulus, and eventual policy normalization but, short term, we could see at least some consolidation in real yields.
3. Double Bottom? Twice the fun – certainly looks interesting, and at the very least gives us a level to work with in terms of downside triggers.
4. Gold Sentiment Turning up following Reset: The Sentix survey "Strategic Bias" indicator for gold has started to trend upwards following a fairly decent reset. Lines up with the conclusion in the ETF flows chart.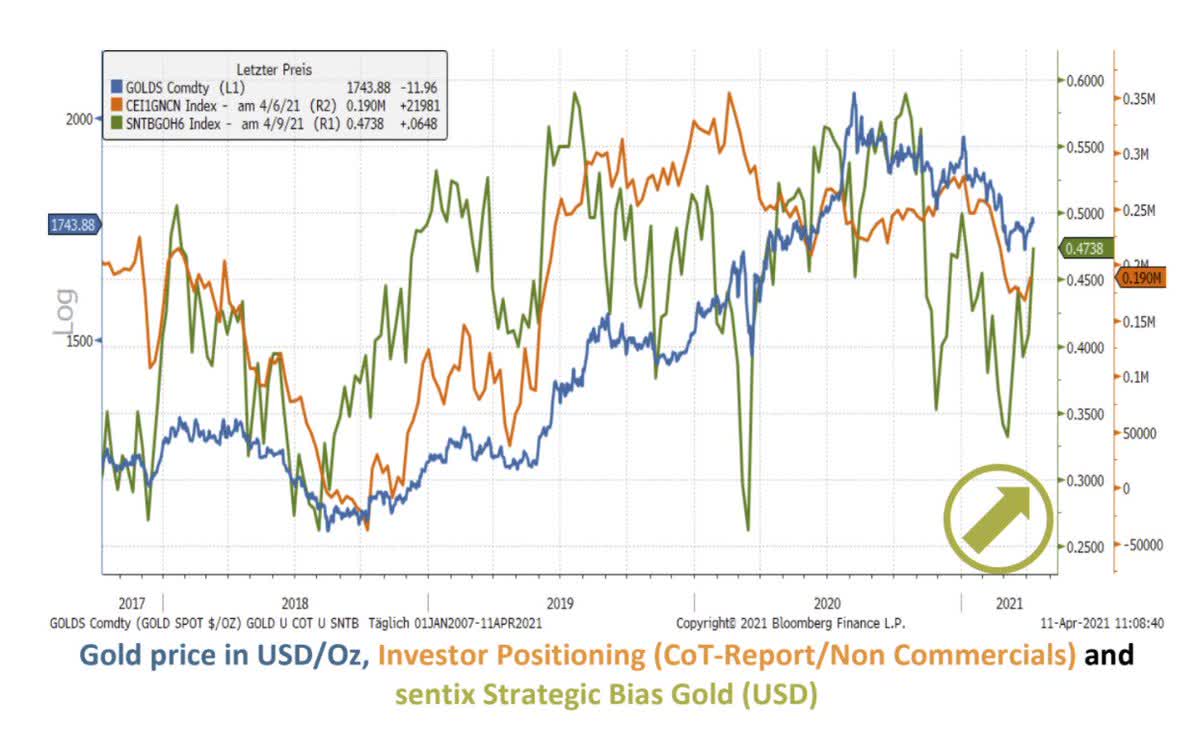 5. Gold FX Breadth Indicator: One of my own creations, this tracks a composite breadth signal from the price of gold in 8 different currencies. After collapsing to fairly washed out levels, it has turned up.
6. Gold Miner Market Breadth – Bullish Divergence: Interestingly in this chart we've seen both a bullish divergence (lower low in price vs higher low in the breadth indicator AND a failed head & shoulders top). Looks promising.
7. Gold Miner Technicals Part 2: Gold miners have come back after a foray with a fairly important zone of support: but down-trending resistance looms overhead. Also of note is the RSI seems to be breaking out.
8. Indian Gold Demand Heating up: While investors seem to be shunning gold ETFs, gold imports by India have surged in recent months – a bit of bargain hunting?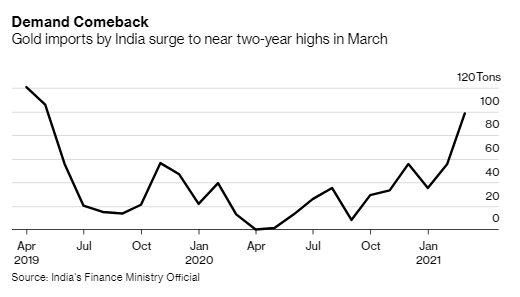 9. Old Coin vs. New Coin: **Note the dual axis, but also note the surging interest in "New Coin" (i.e. Bitcoin funds – and crypto in general) vs. waning interest in "Old Coin" (all gold ETFs). There is this argument that crypto is 'stealing' demand from precious metals – personally I don't buy that at all because the demand drivers/fundamentals are extremely different for the two assets. A simpler explanation is probably just what's been going on in the price action.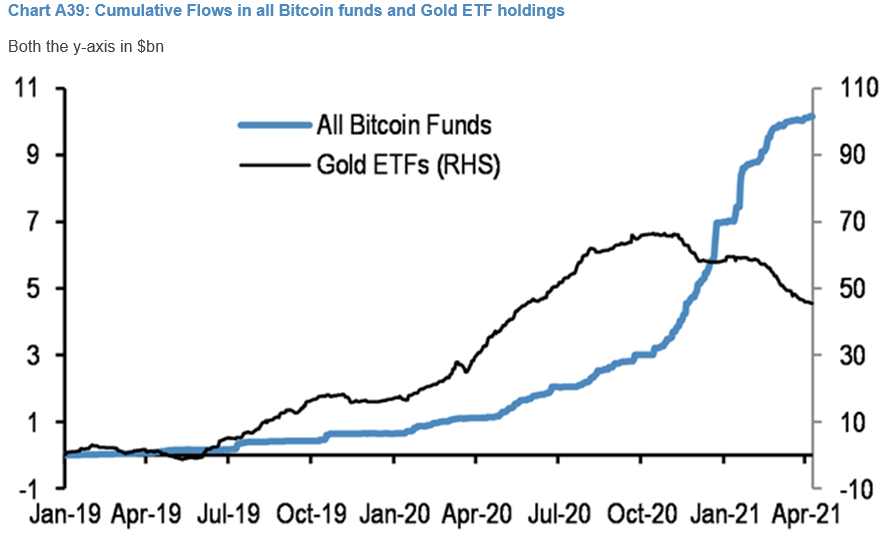 10. Gold vs. Beer: Personally I would prefer the more liquid option here!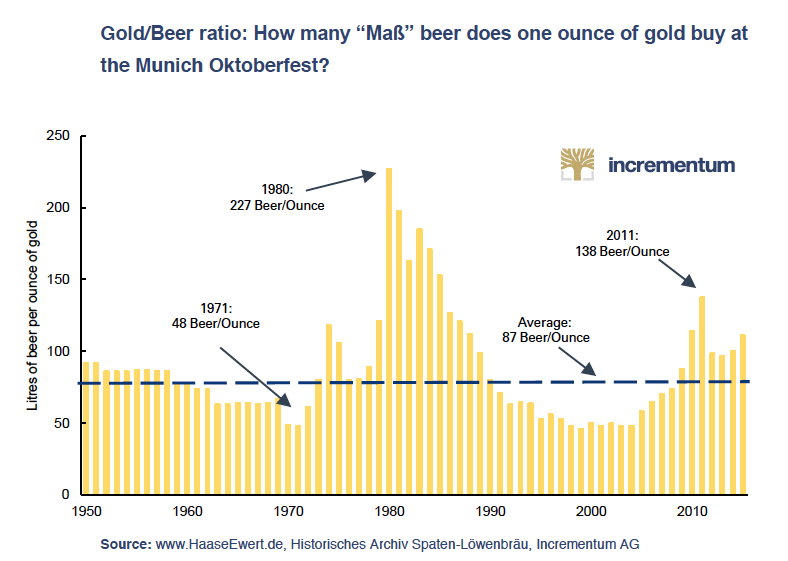 Summary/Conclusion
The tactical outlook for gold and gold miners is looking up as a number of key technical and sentiment signals ring bullish…[but] we still lean bearish further out as real yields likely head higher on the back of reopening/recovery, fiscal stimulus, and eventual monetary policy normalization…
Editor's Note:  The original article by Callum Thomas  has been edited ([ ]) and abridged (…) above for the sake of clarity and brevity to ensure a fast and easy read.  The author's views and conclusions are unaltered and no personal comments have been included to maintain the integrity of the original article.  Furthermore, the views, conclusions and any recommendations offered in this article are not to be construed as an endorsement of such by the editor. A
lso 

note that this complete paragraph must be included in any re-posting to avoid copyright infringement.

A Few Last Words: 
Click the "Like" button at the top of the page if you found this article a worthwhile read as this will help us build a bigger audience.
Comment below if you want to share your opinion or perspective with other readers and possibly exchange views with them.
Register to receive our free Market Intelligence Report newsletter (sample here) in the top right hand corner of this page.
Join us on Facebook to be automatically advised of the latest articles posted and to comment on any of them.
munKNEE.com has joined eResearch.com to provide you with individual company research articles and specific stock recommendations in addition to munKNEE's more general informative articles on the economy, the markets, and gold, silver and cannabis investing.
Check out eResearch. If you like what you see then…